Got an email on Wednesday from Truth Social? If not here is the email
If you signed up for Truth Social almost anyone who signs up is automatically put onto a temporary waiting list, on Wednesday Truth Social send out an email to give a quick update on those who are currently waiting on the temporary waiting list in hopes to soon be let onto the platform. The email read in part "We are steadily welcoming new users from our temporary waitlist onto TRUTH Social for iOS. This phased rollout allows us to identify and remedy errors in real time as we onboard new users."
A copy of the email has been posted below with no edits, reductions and below is a text version of the email.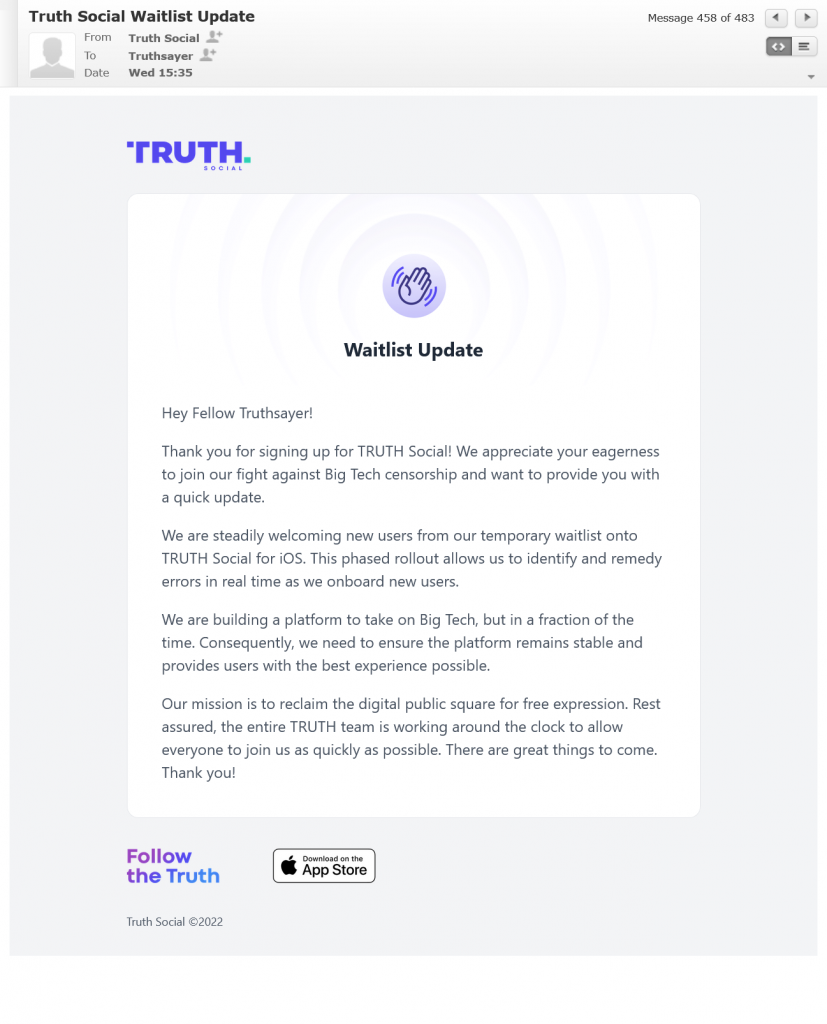 A text version of the email has been posted below:
Waitlist Update
Hey Fellow Truthsayer!
Thank you for signing up for TRUTH Social! We appreciate your eagerness to join our fight against Big Tech censorship and want to provide you with a quick update.
We are steadily welcoming new users from our temporary waitlist onto TRUTH Social for iOS. This phased rollout allows us to identify and remedy errors in real time as we onboard new users.
We are building a platform to take on Big Tech, but in a fraction of the time. Consequently, we need to ensure the platform remains stable and provides users with the best experience possible.
Our mission is to reclaim the digital public square for free expression. Rest assured, the entire TRUTH team is working around the clock to allow everyone to join us as quickly as possible. There are great things to come. Thank you!
Comments
Comments are hidden, you must click on show comments to read and/or post your own.