How to sign up with Truth Social?
About an hour before midnight if you have pre-ordered truth social app you would have been able to open the app as it would have download it onto your iPhone or iPad, but that is about only what you would've been able to do that yesterday the app seem to be constantly having connectivity issues due to the amount of people trying to register.
If you weren't able to register yesterday around 11 PM eastern time on Sunday, February 20, 2022, the next day, the official opening day that is Monday, February 21, 2022, the registration went smoothly.
Here's what you need in order to register with TruthSocial.
A valid telephone number (Mobile phone number), this is used for verification and they will send you a six digit verification code.
You'll need to provide a valid email address that you will be required to click on in order to continue the registration process.
You only be able to register by downloading TruthSocial app from the App Store.
Let's get started!
Step 1: You can go to truthsocial.com, then from the website you will see a link to the App Store. once it is download it onto your iPad or iPhone open the app up, by tapping on the app icon.
Step 2: Once you open the app for the first time you will see a screen to enter your login credentials (email address and password) or a link to the registration form, for the registration form click on "create new account".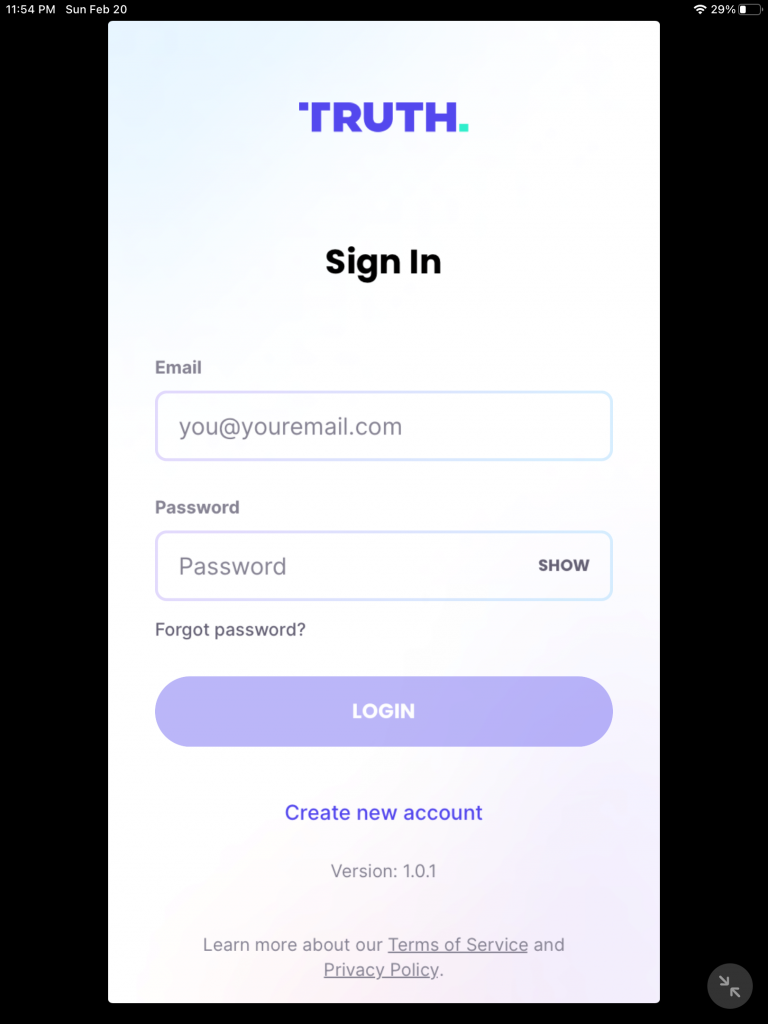 Step 3: You'll need to provide your date of birth by selecting the month, day and year. Once you have selected your date of birth the next button will then become active, click on next.
Step 4: You'll need to provide a valid email address. The reason they are asking for a valid email address as this is what you'll use to login and if you forget your login credentials i.e. your password this is how you will be able to reset your password. during the registration process they will send you an email in which you will need to click on the email in order to have your email verified.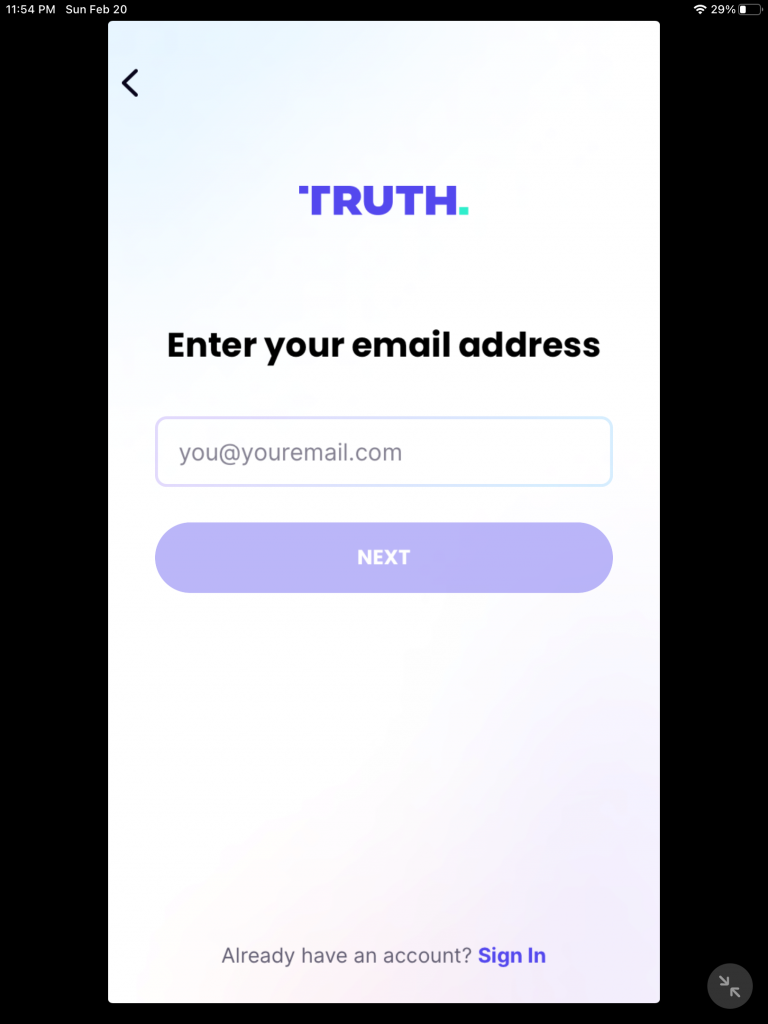 Step 5: After you have entered your email, you should receive a verification email that will contain a link that you must click on it, you may need to wait a few seconds to a few minutes as it may take a while for the email to be dispatched and be received by your email provider.
Step 5 (step five is continue): When do you do in fact receive the email, click on the email and click on the link to verify your email. It will take you to a webpage, you should see in the upper right hand corner a message that will indicate that your email has been successfully verified after this you can close this webpage out. As seen below: (Do NOT enter your username and password here, it will not work, you must continue though the app.)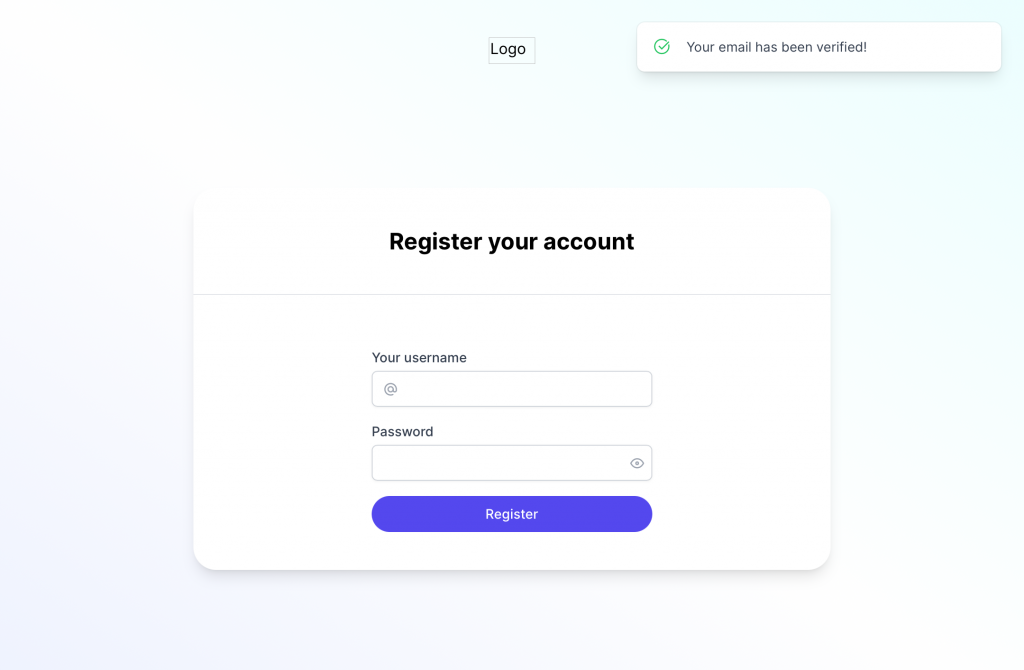 Step 5 (step five is continue): On the app it will change from the image as seen here. As seen in the image below this will only be displayed for a brief second before continuing with the registration.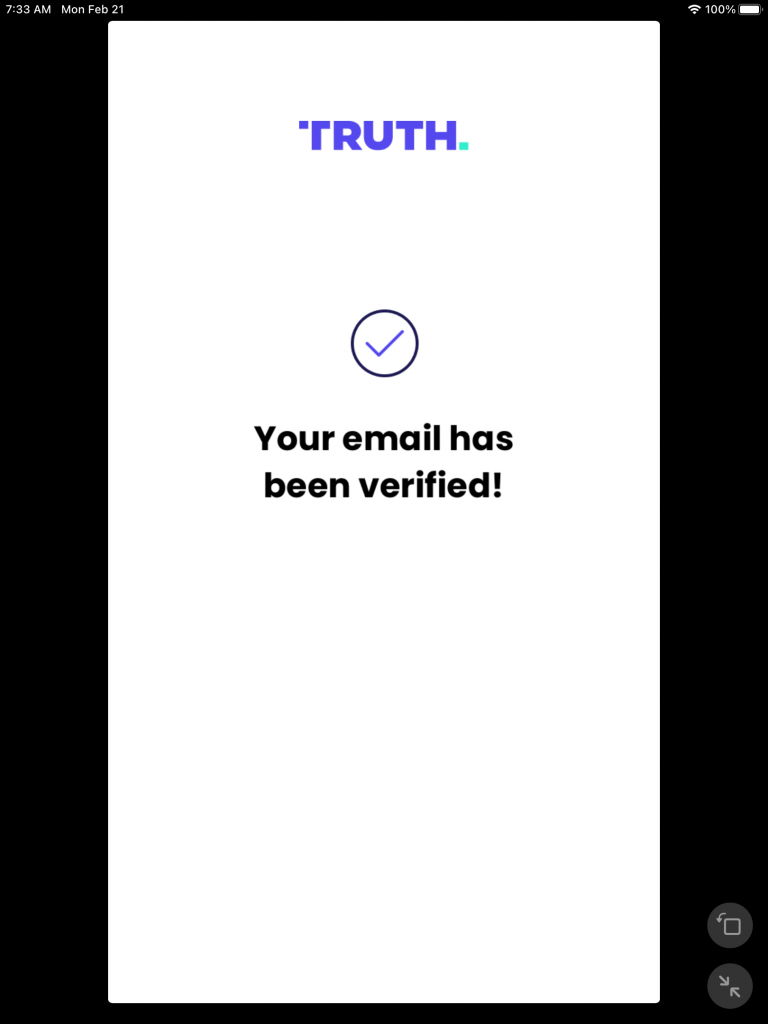 Step 6: You will be required to provide a valid cell phone number (most likely it will be a mobile cell phone number from Verizon, AT&T, Sprint, etc) as they will be sending you a verification code that contains six numbers. It may take a few seconds or a about a minute order to successfully receive the verification code.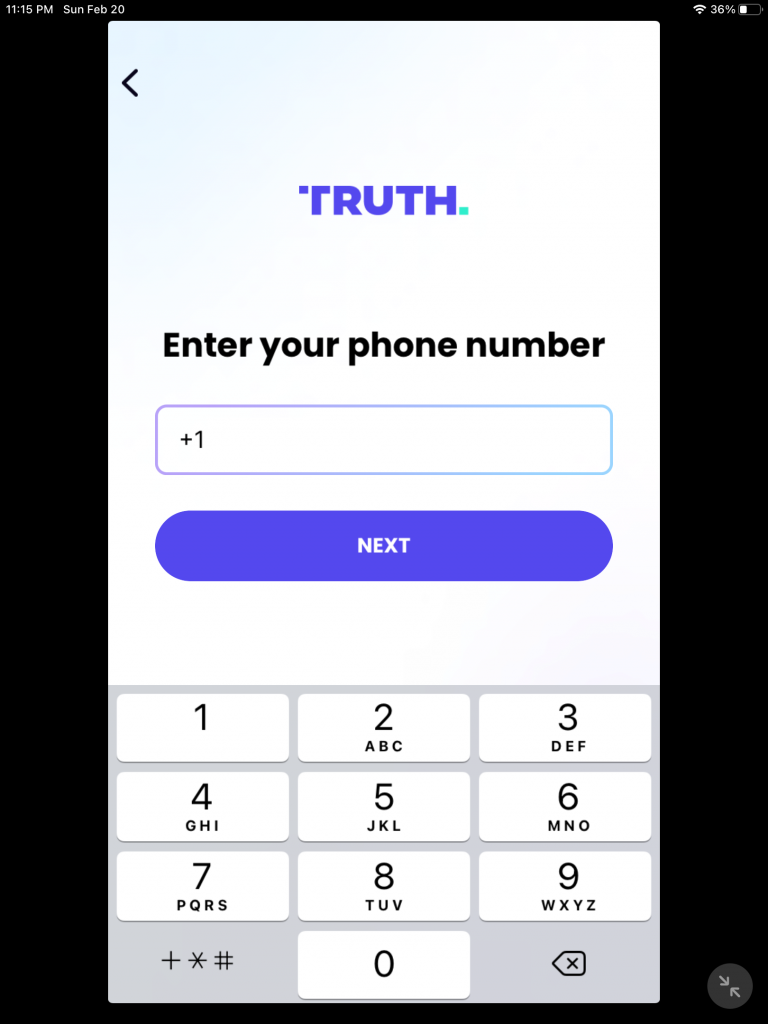 Step 7: You will receive a six digit number that you'll need to enter in order for you to continue the sign-up process. This is required and there does not seem to be any other way around this.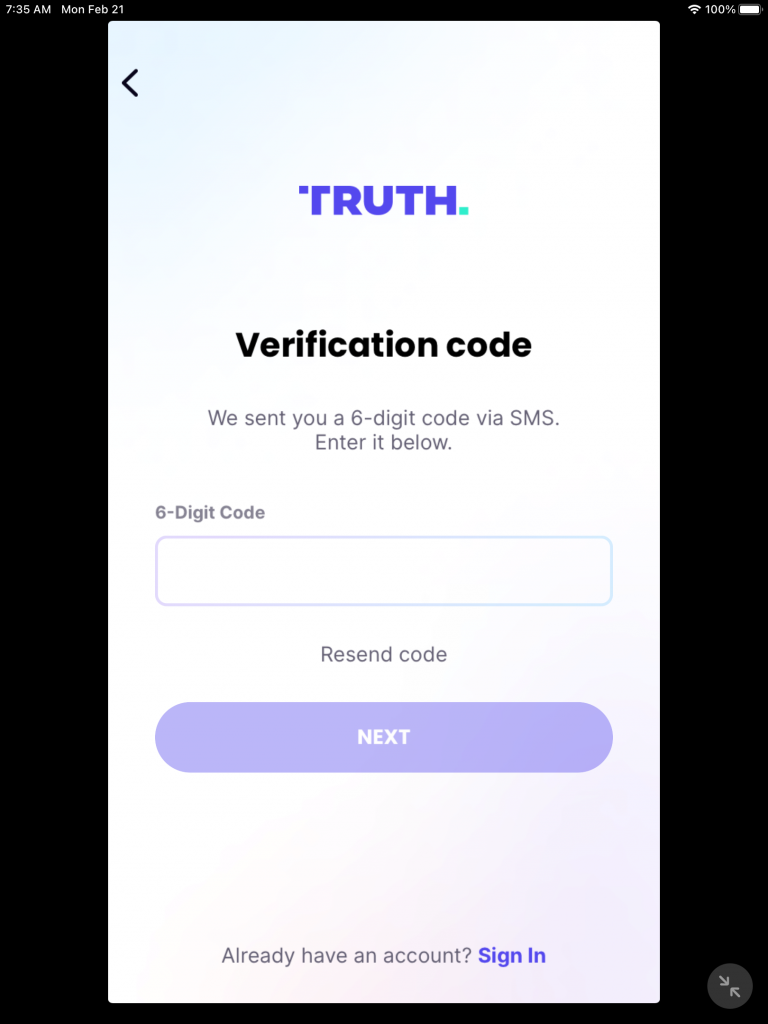 Step 8: For a brief few seconds you will see this message "phone number verified!", It should automatically go to the next screen.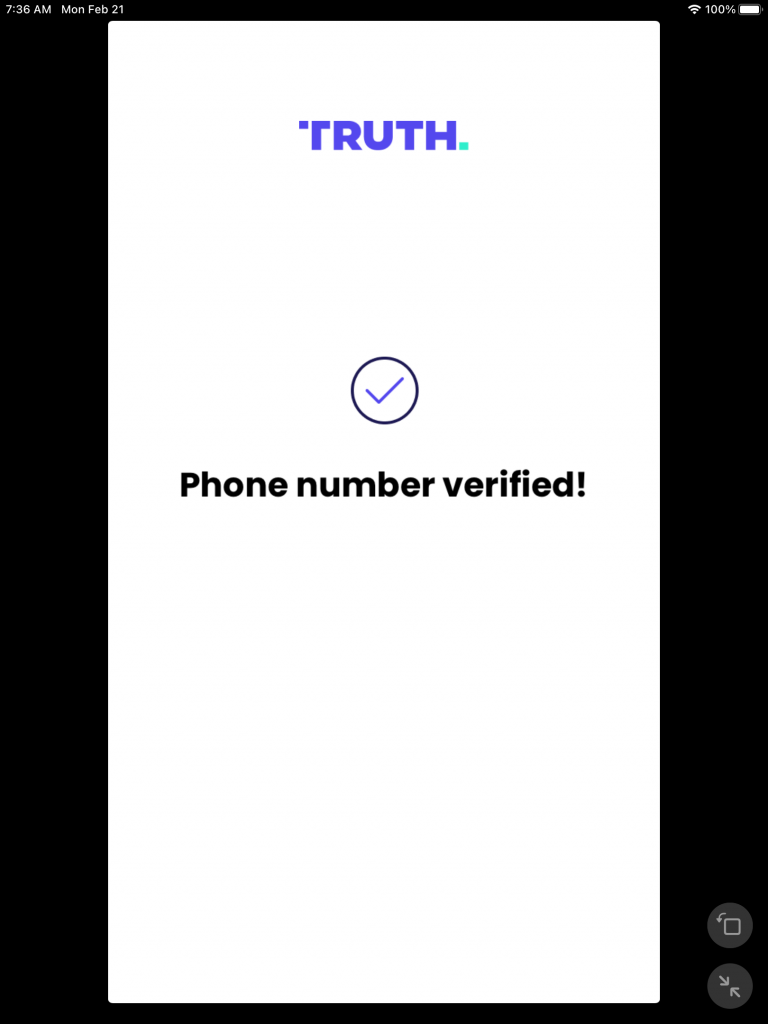 Step 9: You will need to create a password, the password must be a minimum of eight characters one capital letter and one lowercase. special characters I have tried is the at symbol "@", out quotations along with a period "." again without quotations also worked. for example if you made your password Pass@sample.com, that would work.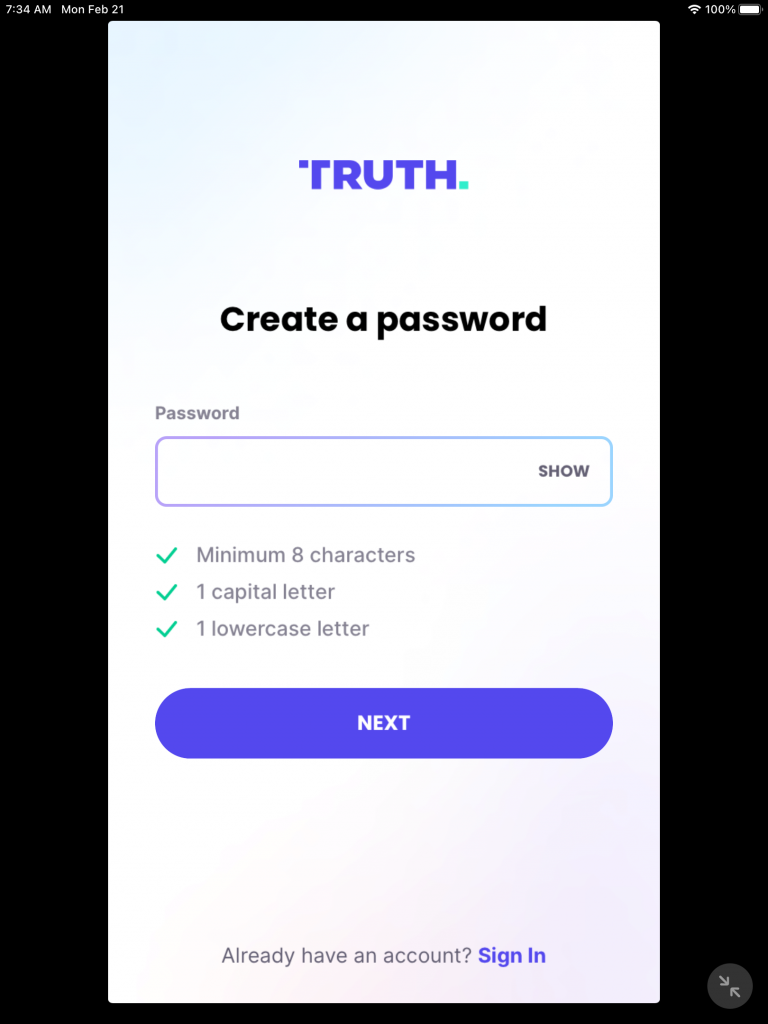 Step 10: Now the fun part is deciding what do you want your username to be, for this demonstration I chose wqyu. (there may be some usernames that you may not be able to use such as for not limited to Trump, verified, support, help or anything else that could be easily used in a way to Impersonate or misrepresent.
You also must tap on the slider to indicate that you agree to the terms and privacy policy.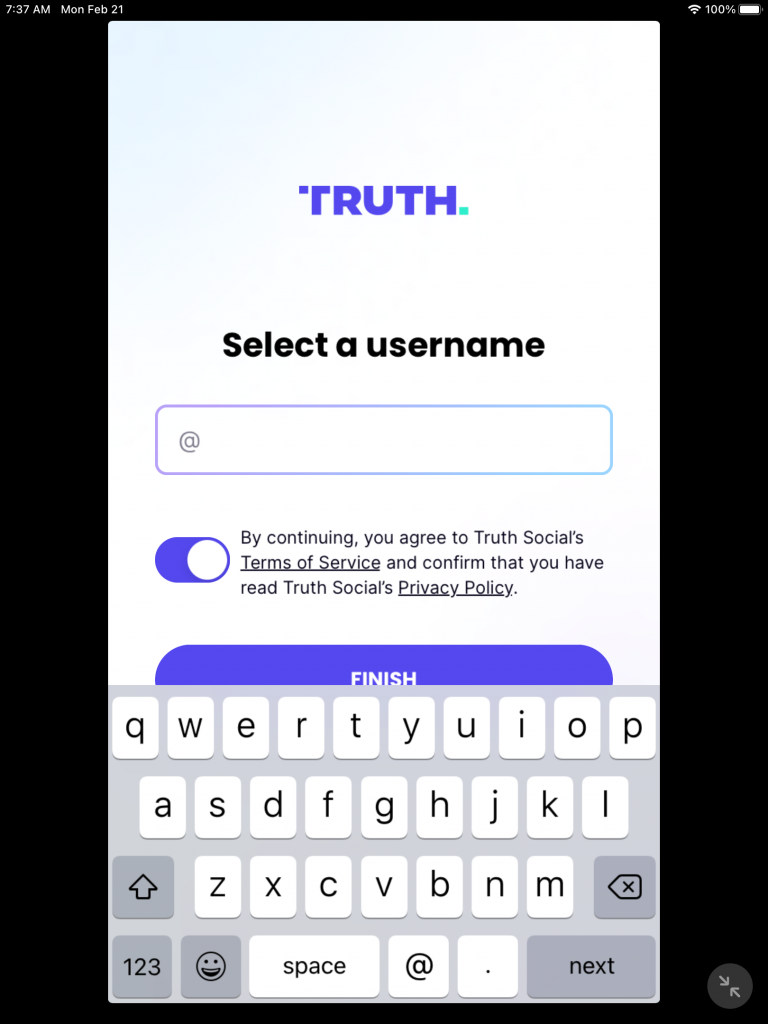 Step 11: Congratulations! You have successfully signed up and now the fun part begins which is unfortunately the waiting period. It is unclear how long upon after your account has been created but you'll have to wait before you can use it and check it out.
Sometimes that number that you see below where it says "93,884", may not show, so don't be alarmed and it seems to me that the two arrows going in circles doesn't seem to be functioning at all. The number that says 93,883, will be different depending on when you chose to sign up.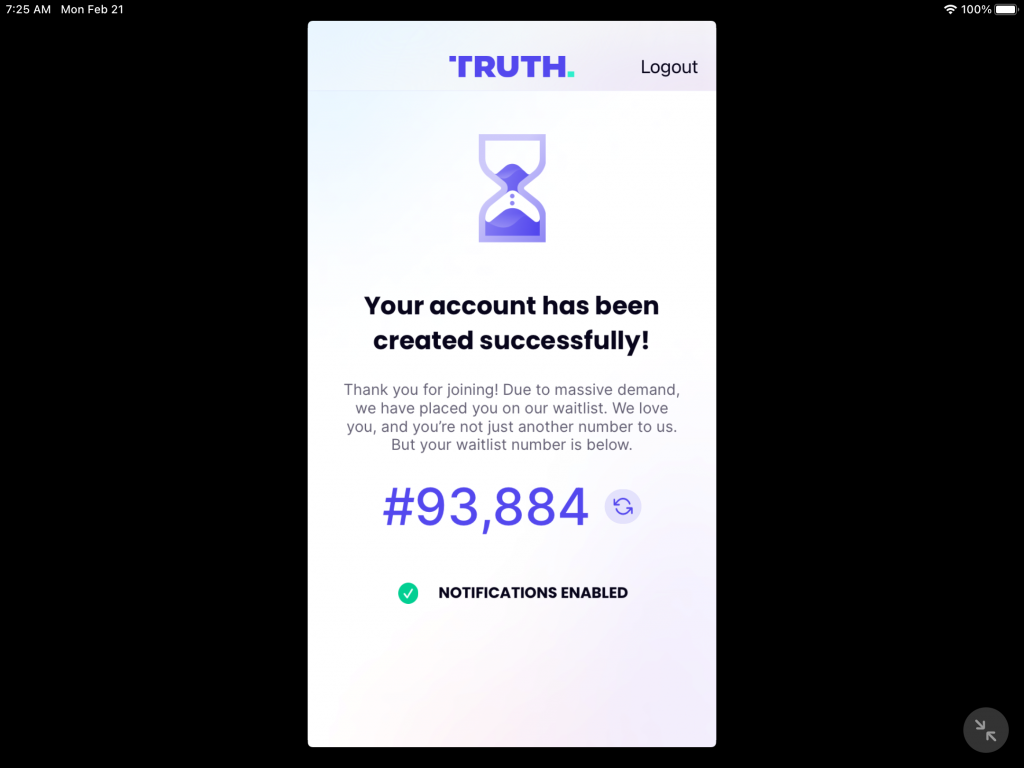 Comments
Comments are hidden, you must click on show comments to read and/or post your own.