How to subscribe to Twitter Blue?
Woo hoo! Today, Monday, December 12, 2022 Twitter Blue officially relaunched allow those who meet the eligibility requirements to be able to subscribe if they want to.
The eligibility requirements follow as:
Accounts must be 90 days or older.
Changing anything on your account such as the following your username i.e. @ name, display name MyNane, website, bio, profile image, background image will automatically make your account ineligible to be able to subscribe and you will need to wait seven days.
If you find the subscription link and your account is not eligible you will receive a message that reads "Sorry, your account is not eligible for Twitter Blue at this time. Please try subscribing again in the future."
Just a heads up about a few things:
Subscribing to Twitter Blue is 100% optional NOT required or mandatory. Twitter is still free and you will still be able to continue to use Twitter as you did before.
Disposable phone numbers, phone numbers from Google voice or voice over IP won't be accepted for verification.
Lets get started
Upon logging into Twitter if your account is eligible you may receive a pop up as seen in the photo below letting you know that you will be able to sign up for Twitter blue and you can start the sign-up process right now, to begin the sign of process go ahead and click on subscribe. if you don't want to subscribe, not a problem, simply click on the small X that's located on the left-hand corner or simply click anywhere in the gray area. if you would like to subscribe to Twitter blue if your account is eligible you will see a icon that is six in line on the right side under the small Twitter logo that is located at the top left-hand corner.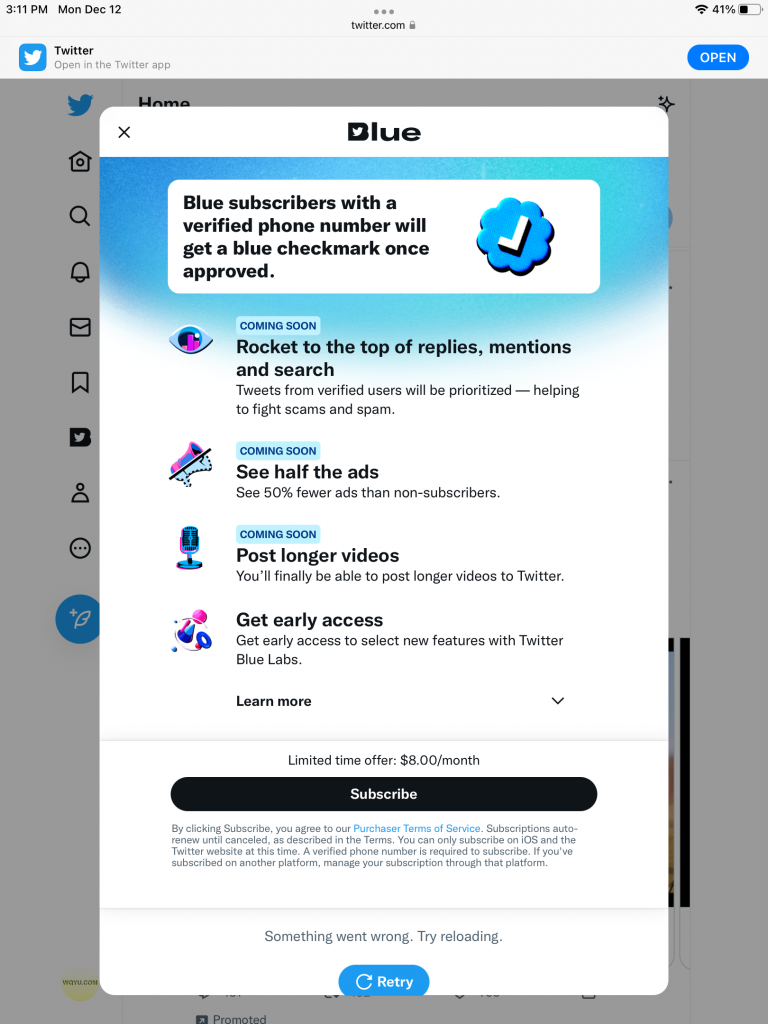 In the photo below there is really not much to say other than that they're emphasizing that you need to have a valid phone number in order to begin the subscription for Twitter blue.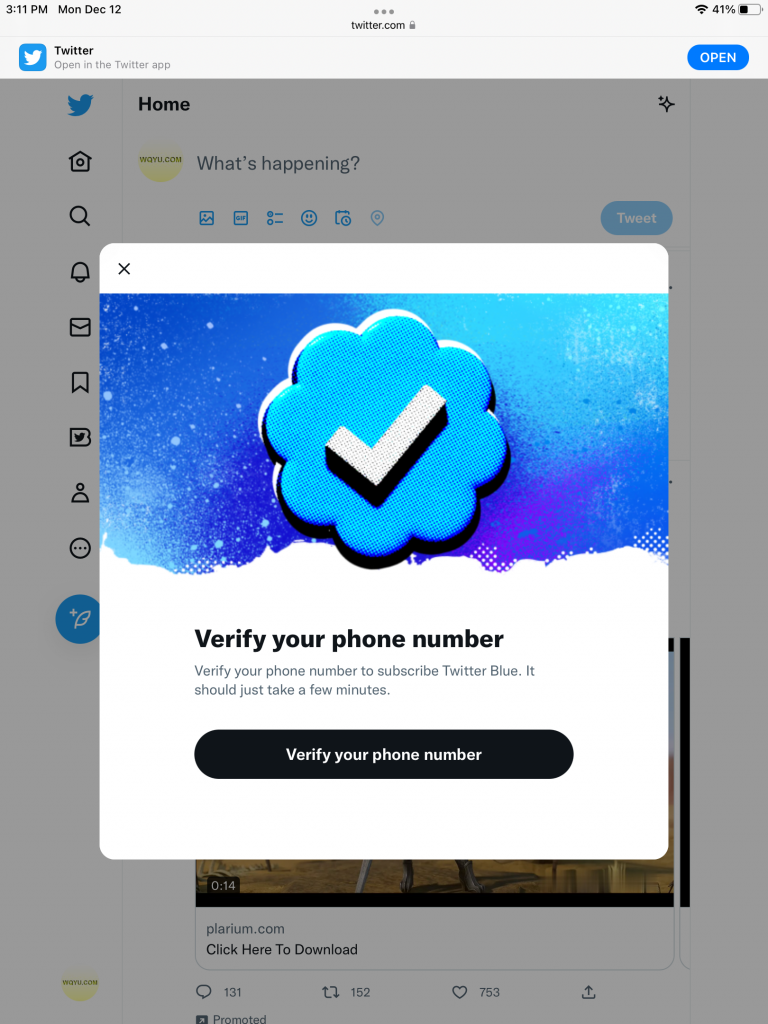 In the photo below you see that it is asking for you to enter your password, and your password and you will then be able to continue.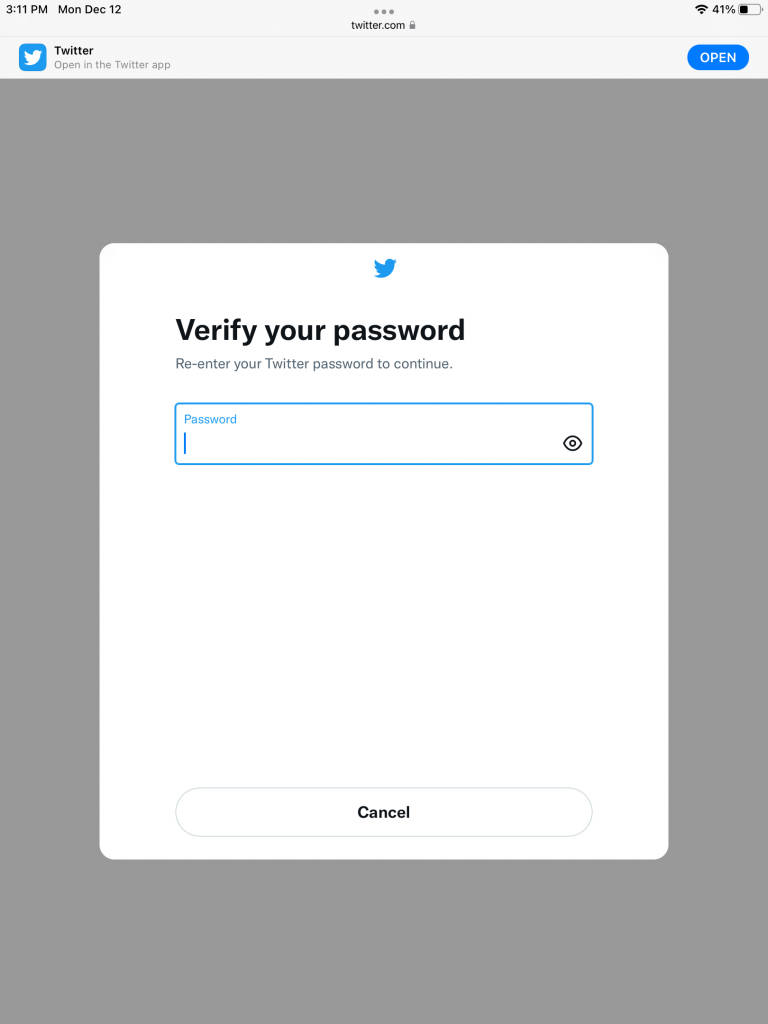 You will need to select your country and you'll need to enter the mobile phone number. (As I mentioned above disposable phone numbers, google voice, voice over IP phone numbers will not work.)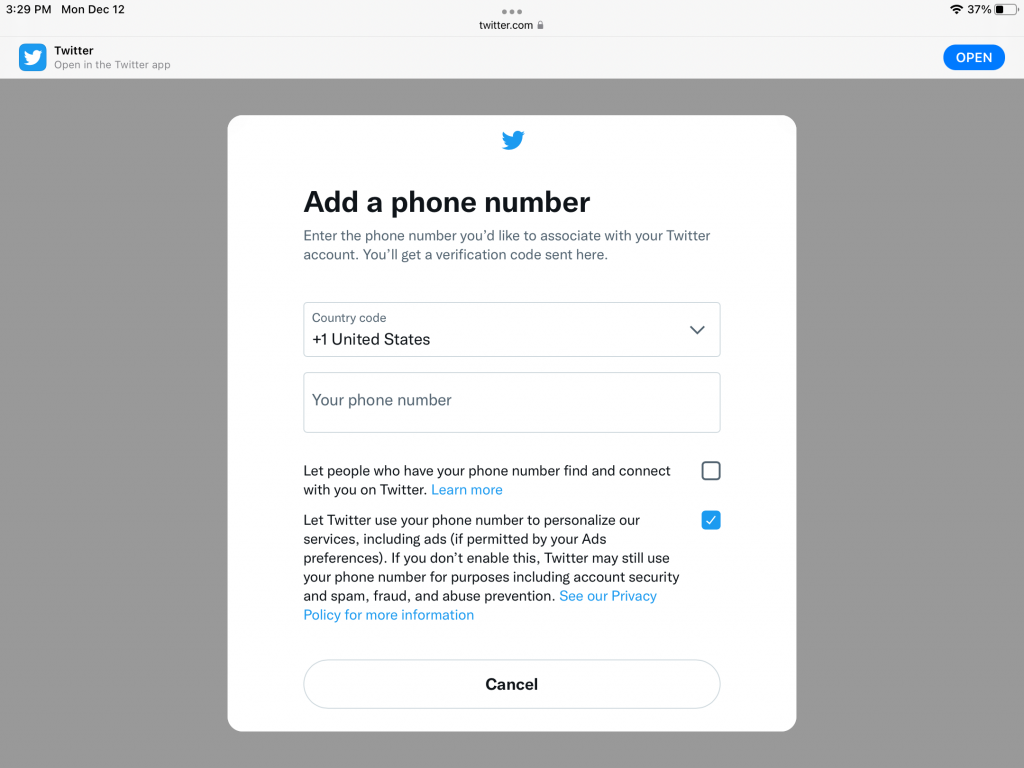 as seen in the photo below it is asking you to confirm if this is the phone number you want to verify with or if you need to make a correction such as you entered an incorrect phone number. If this is the correct phone number, click on OK to continue.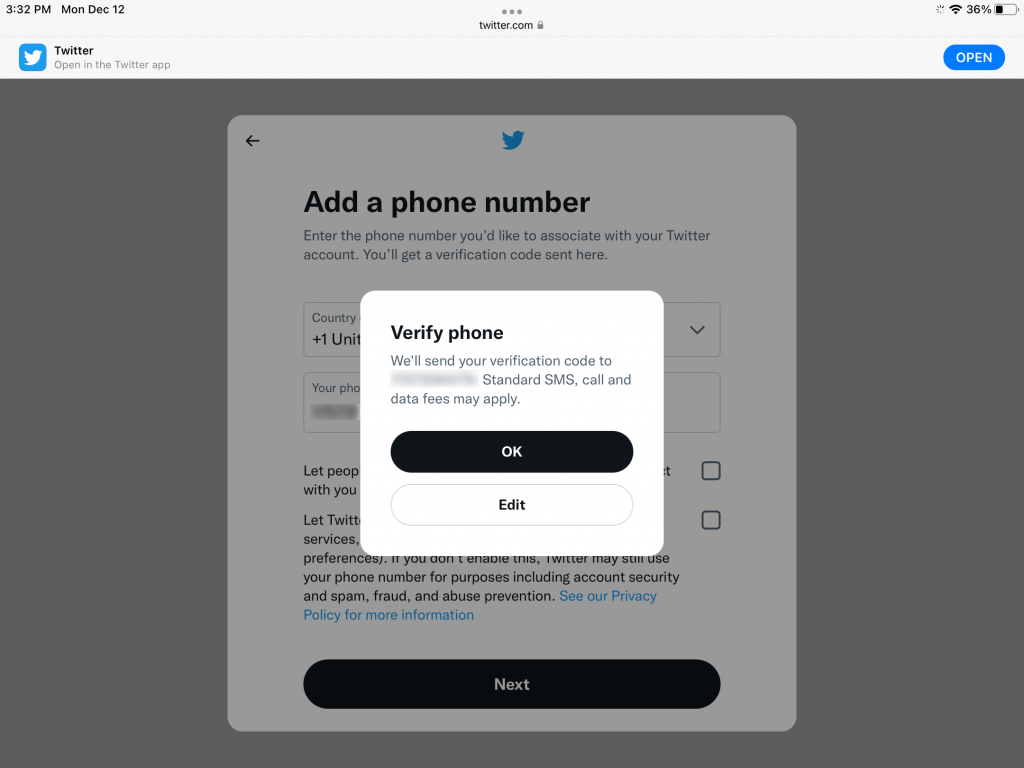 It may take a while for the verification number to be received, so please be patient, once the verification number arrives be sure to enter the number in exactly as you see it then click on verified to continue.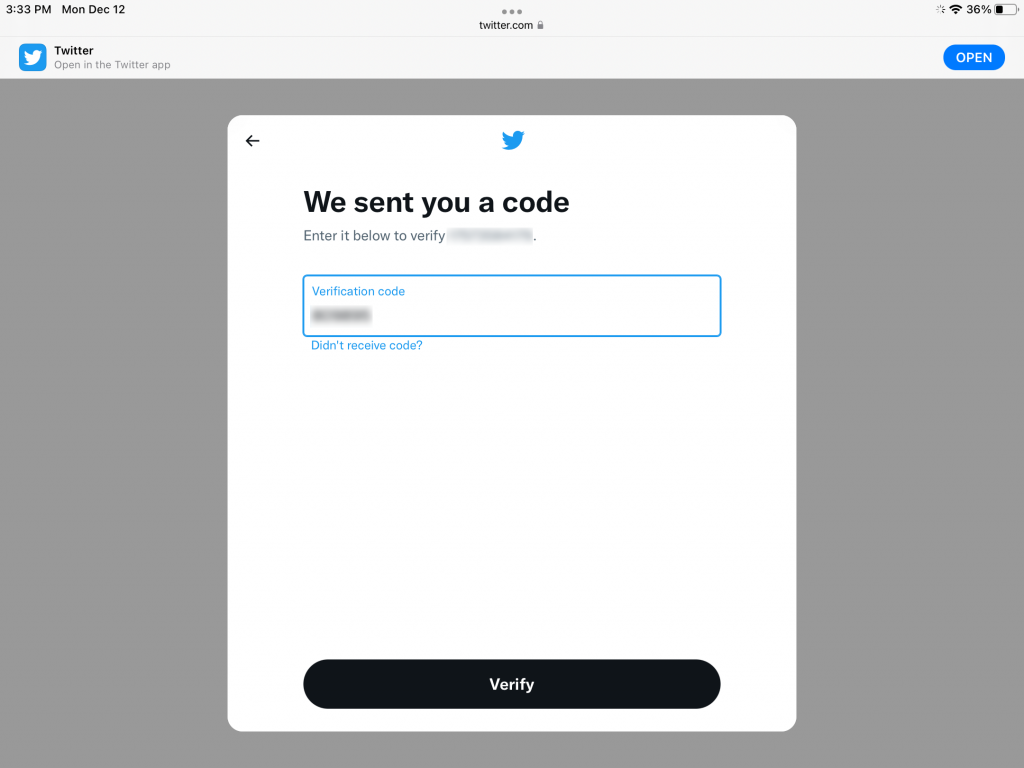 You're almost there! You will need to enter your email address, Credit card number, expiration date MM/YY (month/year), three digit security number that is found on the back of your credit card, name on your credit card, select your country, complete mailing address, and you can choose to enter your phone number to make it easier for you to save your information but this is optional. Verify that all the information is filled in correctly and that the information is correct once you have verified that the information is filled in correctly and if the information is correct click on subscribe.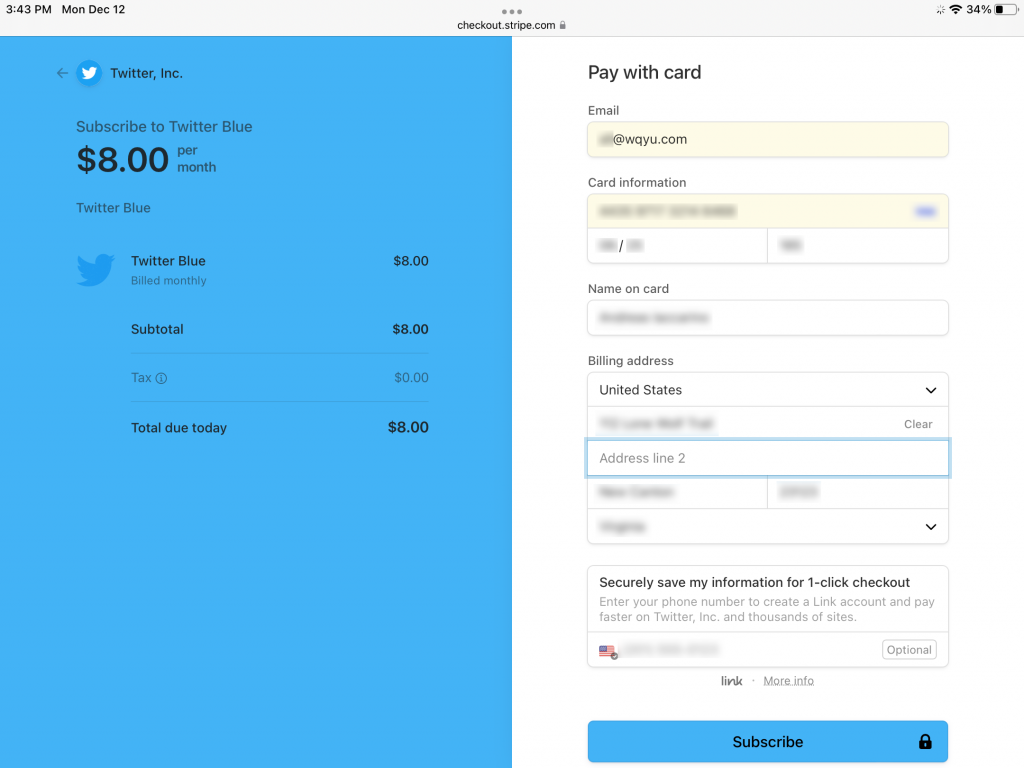 CONGRATULATIONS! You have successfully signed up for Twitter Blue, let this be as a confirmation that you have successfully signed up, from this point on you should have all of the features with the exception of the blue checkmark, that will come later as Twitter will need to manually verify all persons who are subscribing to Twitter Blue. Go ahead and click on continue.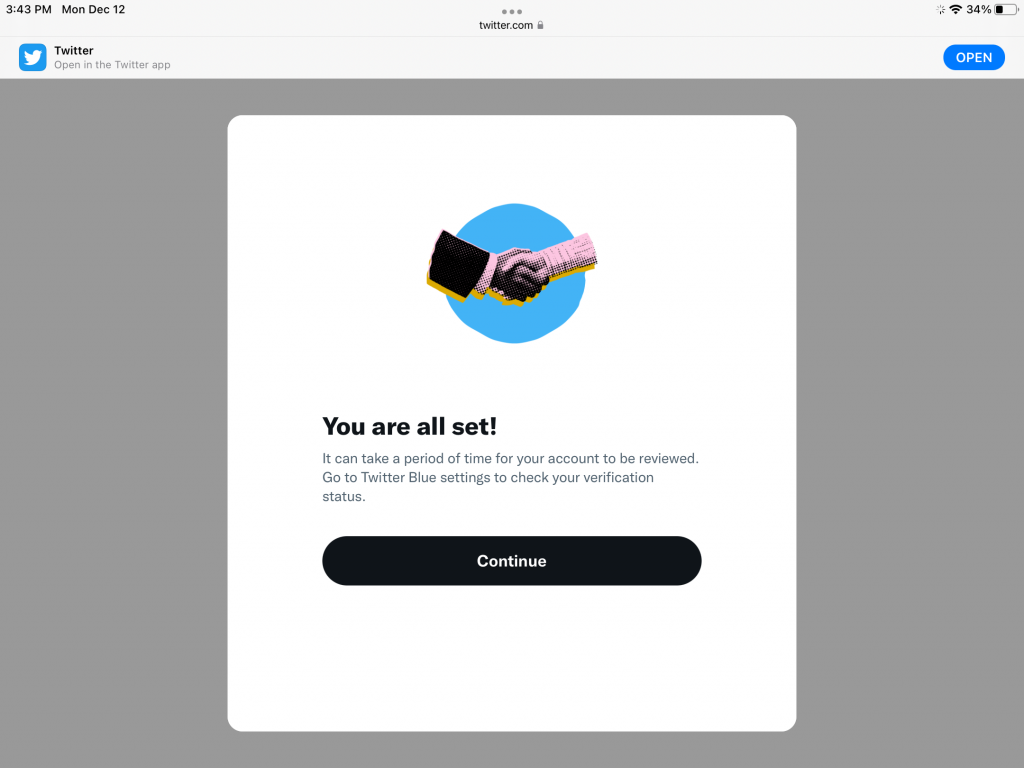 This is just telling you where you will be able to find Twitter Blue, and letting you know you now have access to the Twitter Blue member features. Remember: the Twitter Blue checkmark will come later after Twitter has manually verified you since you have subscribed to Twitter Blue. go ahead and click on let's go.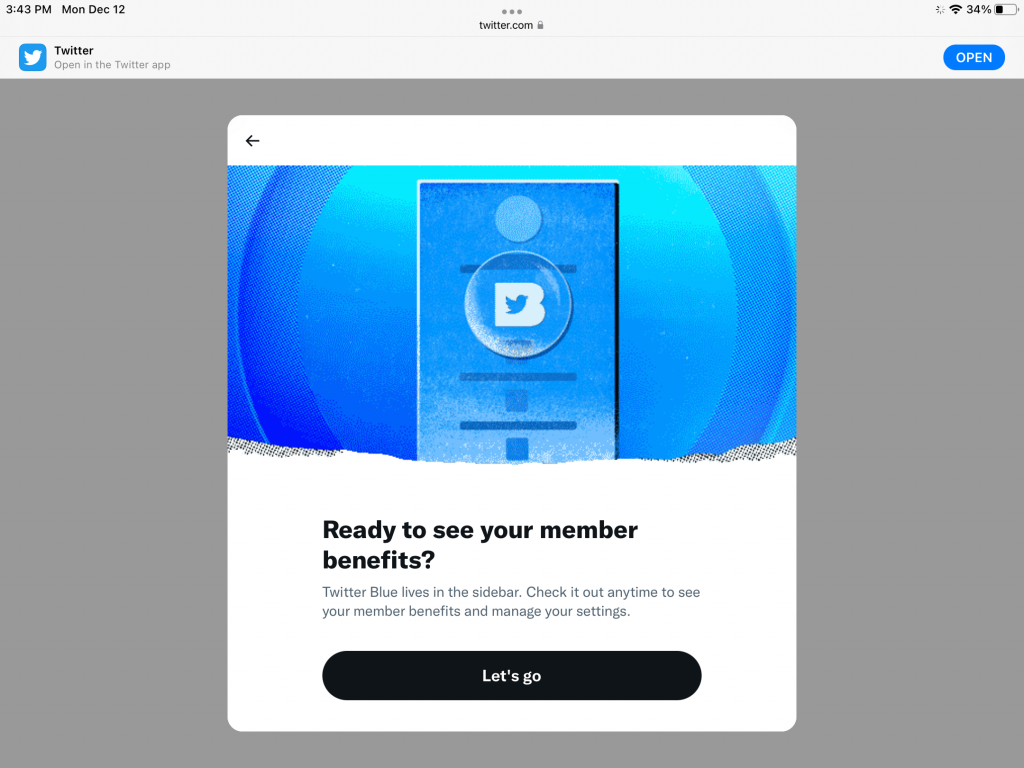 After you have clicked on let's go you'll be brought to the Twitter blue settings page this will be where you will have access to certain settings, some of them may apply to you, some of them you may use some of them you won't use but also through here is where you will administer your subscription if you choose to cancel your subscription.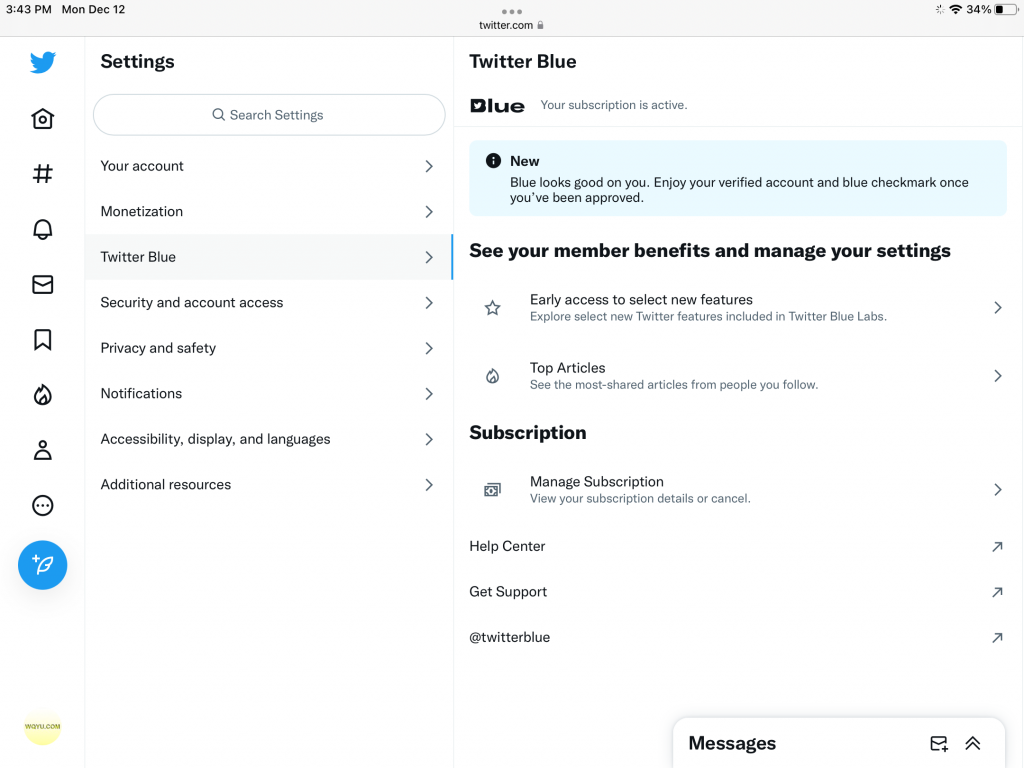 Source
Twitter help pages:
Comments
Comments are hidden, you must click on show comments to read and/or post your own.